Chicago's Comeback
Help Chicago Come Back
Research has shown that children and adolescents are more likely to experience high rates of depression and anxiety during and after isolation1. Furthermore, 82% of providers of Chicago summer programs are concerned about their program's long-term funding and future due to COVID-19, and many programs will need to raise enrollment fees or find new revenue sources2.
On the heels of the COVID-19 pandemic, the Chicago's Comeback campaign encourages residents of the City of Chicago to sign a Letter of Support calling on the city's stakeholders to prioritize funding for organizations that are using the power of sport to fight back against the challenges posed to youth in the past year.
1Loades et al., 2020
2Afterschool Alliance, America After 3PM, 2020
About
Chicago's Comeback is a month-long campaign created by the over 85 member organizations of Sport for Good Chicago (an initiative of Laureus USA) who are reaching more than 80,000 young people throughout the city, using sport as a tool for youth development and social change.
​​Goals of Campaign
1. Secure signatures for a "Letter of Support," which is the first step in a) passing legislation that would result in sustained, year-over-year budget for sports-based youth (SBYD) development programs in Chicago/Illinois and b) engaging local funders and philanthropic organizations to commit to investing in sport as a tool for youth development.
2. Generate donations for Sport for Good Chicago and Chicago sports-based youth development programs.
3. Raise awareness around the value sports-based youth development programs have for young kids, especially on the heels of the COVID-19 pandemic.
Chicago's Comeback Mural: We Play, We Heal, We Grow!
Local Chicago artist, Damon Lamar Reed teamed up with Laureus USA and Sport for Good Chicago for an art mural at Gallagher Way to help kick off the campaign and drive awareness.  On Sunday, August 8th  the mural titled We Play, We Heal, We Grow! was unveiled against the backdrop of the Crosstown Classic, uniting Chicagoans around the power of sport to help kids heal and thrive. For more information on the event click here.
The mural was on display at Gallagher Way next to Wrigley Field Aug 6th-Aug 8th and is now traveling throughout Chicago for various events. If you are interested in having the mural come to your event or space in the month of August to help spread awareness for the campaign, please email sportforgoodusa@laureus.com.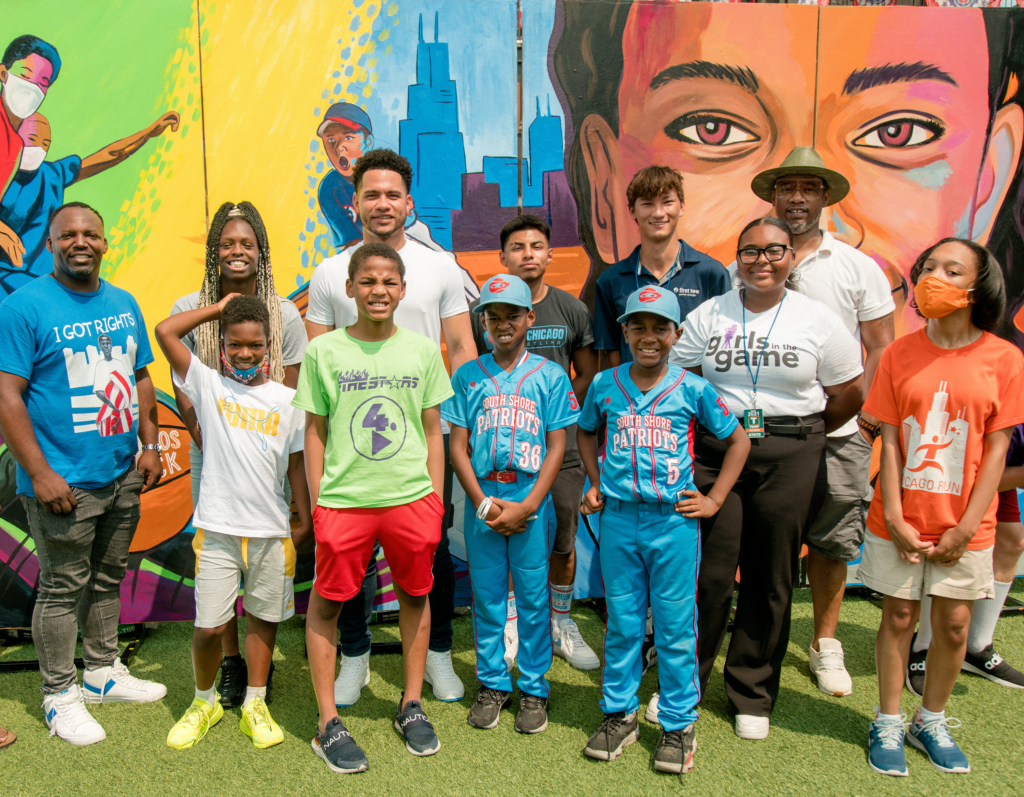 Participating Organizations
Thank you to our supporters